QuantumSI deploys Nortel/CDMA CROME Performance Management System for MobiPCS
22.Sep.06 -- Quantum Systems Integrators, Inc., aka QuantumSI, completed a fully integrated deployment of its CROME performance management (PM) system for MobiPCS in Hawaii. This system is the first of its kind to fully integrate and automate all PM aspects of a Nortel CDMA2000 Network into a comprehensive reporting and analysis framework. The CROME system is an invaluable tool which is actively contributing to MobiPCS' successful CDMA system build out by providing full ad-hoc reports in mere seconds on any needed KPI or formula.
"QuantumSI's CROME product easily provides everything we need at MobiPCS for performance management reporting." - Russell Lundberg, MobiPCS
QuantumSI's CROME product is a generic ad-hoc PM reporting tool that works seamlessly with disparate technologies such as CDMA, GSM, and iDEN. Regardless of the equipment vendor or data formats involved, CROME's data gateways integrate all data types into its generic reporting tool.
For this CDMA deployment, CROME data input gateways communicate with Mobi's Nortel CDMA2000 1X, CDMA Packet Mobile Switching Center, for both performance metrics and configuration information, and also with the Nortel Base Station Subsystem Manager (BSSM), again for both performance metrics and configuration data.
The result is a fully automated data processing and high performance data warehouse that can quickly generate all needed ad-hoc reports against any of MobiPCS' performance data. Additional configuration data collected by CROME allows for use of CROME's interactive geographic mapping of any desired customer KPI or formula.
Full MobiPCS Endorsement
English
Español

In late 2006 MobiPCS chose QuantumSI to provide a performance management platform to meet our reporting needs. We needed to report on both existing and future KPIs available from our Nortel CDMA2000 1X, CDMA Packet Mobile Switching Center. QuantumSI's CROME system was the product of choice due to a solid multi-vendor design, full ad hoc reporting, excellent performance, and the ability to perform all required integration in a matter of weeks in this new Nortel technology.

QuantumSI went the extra mile, setting up a back haul server from their labs in California that allowed us to access our critical statistical data prior to the scheduled deployment of our final on-site CROME hardware. The deployment itself went smoothly and QuantumSI's staff handled all equipment and integration issues, working in a very professional manner with our staff.

QuantumSI's CROME product easily provides everything we need at MobiPCS for performance management reporting. We particularly enjoy the GIS features, which integrate our live and historical data with street and satellite photo maps.

The technical support we've received from QuantumSI has been exceptional.

A finales del 2006, MobiPCS seleccionó a QuantumSI como proveedor de una plataforma de gestión del rendimiento a fin de satisfacer nuestras necesidades de generación de informes. Necesitábamos contar con información sobre indicadores clave de rendimiento (KPI´s, por sus siglas en inglés) presentes y futuros para nuestra plataforma Nortel CDMA2001X y Centro Conmutador de Paquetes de Datos CDMA. Optamos por el sistema CROME de Quantum SI debido a su interoperabilidad con equipos de distintos fabricantes, capacidad de generación de informes ad hoc, rendimiento superior, y la posibilidad de efectuar toda la integración requerida en cuestión de semanas bajo esta nueva tecnología Nortel.

QuantumSI fue un paso más allá, instalando un servidor de enlace desde sus laboratorios en California que nos permitió acceder a nuestra información estadística crítica antes de la implementación final programada del hardware CROME en el sitio. La implementación transcurrió sin problemas y el personal de QuantumSI se encargó de todos los aspectos relacionados con el equipo y la integración, mostrando gran profesionalismo al trabajar con nuestros empleados.

El sistema CROME de QuantumSI nos brinda fácilmente todo lo que necesitamos en MobiPCS para la generación de informes de gestión del rendimiento. Sus opciones GIS (Sistema de Información Geográfica) nos resultan particularmente útiles ya que integran nuestra información actual e histórica con mapas satelitales.

El nivel de soporte técnico que hemos recibido de QuantumSI ha sido extraordinario.

Russell Lundberg
Director - IT and Advanced Systems
MobiPCS
Honolulu, HI
Russell Lundberg
Director de Tecnologías de la Información y Sistemas Avanzados
MobiPCS
Honolulu, HI
CROME reporting for Nortel CDMA2000 1X systems
A single full ad-hoc CROME report that took 1.73 seconds to run (from another state) showcases the capability and the performance of CROME in the CDMA environment, images of the three fully integrated live views of the same data are shown below ( GIS, GRAPH, and GRID ). This single customer-created ad-hoc CROME report queried 28 half-hourly raw statistical measurements for calculating 21 different KPI formulas for 275 sectors across an entire day. CROME also integrates with productivity suites like Microsoft Office and OpenOffice for exporting data and/or publishing complete detailed reporting packages.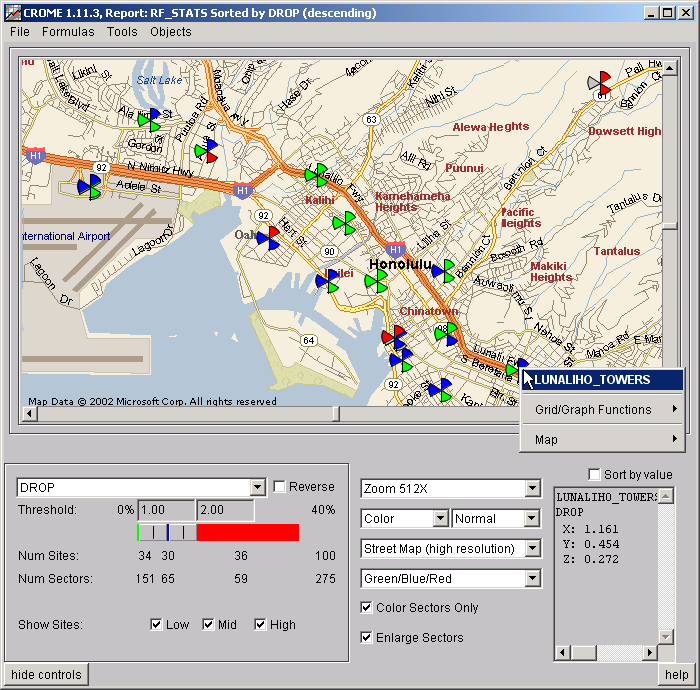 QuantumSI's CROME system puts all performance metrics at the customer's fingertips, and provides intuitive menus and displays to allow quick creation of formulas and reports. QuantumSI also provides a suite of Nortel/CDMA reports with the installed product.
Data is processed by CROME as soon as it is available on the Nortel Switch and BSSM, every half hour. As soon as the data is available, users can run CROME reports at the click of a button and analyze key performance metrics.
The swift turnup of Mobi's CROME System and blazing speed of CROME's reporting capabilities are trademarks of QuantumSI's products and installations. Whereas competitors may take many months to integrate a product, only to provide slow access to reporting and/or "fixed" reports that do not allow ad-hoc analysis, QuantumSI's CROME product is quickly integrated into the network and provides reporting speeds unheard of in other reporting systems.
The CROME software suite is a best in its class decision support system that allows both land-line and wireless service providers to quickly analyze capacity, trends and faults for any network. This allows wireless providers to proactively tune, adjust, reassign, or increase capacity to meet exacting quality of service levels at the lowest possible equipment expenditure rate.
CROME is a proven solution that has been in operation for over nine years in full production settings, ideal for Network Optimization including: Network performance, Frequency and Capacity planning, Handoff parameter and System performance analysis, Capacity / Handoff/ Drop / Block performance review (daily, period, or bouncing busy hour), and Drive Testing on Single Sites, Multi-Site Clusters, Switch Level, and Multi-Switch National Infrastructures.
In the event your company's wireless operations (whether iDEN, GSM or CDMA) would benefit from QuantumSI's proven CROME Remote Hosting solution or upon approval a short term "zero cost no risk" CROME demonstration highlighting actual data from your market, QuantumSI can quickly process your application for CROME remote hosting services. Simply contact QuantumSI at sales@quantumsi.com or 714-428-1133 and inquire about either Remote Hosting or a direct CROME system purchase.