QuantumSI delivers Location Assurance Manager Software to TechnoCom, integrating powerful CROME features.
07.Jun.05-- Quantum Systems Integrators, Inc. (QuantumSI) completed and delivered the current phase of the Location Assurance Manager (LAM) software for its partner, TechnoCom Corporation, the national leader in solutions for wireless location services.
TechnoCom selected QuantumSI due to their extensive expertise in wireless enterprises, and due to the success of their CROME Wireless Performance Management System. TechnoCom realized they could leverage CROME's powerful reporting and geographic mapping capabilities in the LAM Product Line.
Under an exclusive licensing agreement to utilize CROME technology for location based services, QuantumSI adapted CROME to report and map location data and create a new LAM Applications. The result is an integrated database/web server that collects and manages location data, as well as a GUI front end that integrates with CROME technology.
Geographic Mapping of Location Data
Field Test Point vs. Location System Plot - Average
The map above is a sample report from the LAM System, showing a Test Point distribution for assuring location accuracy of mobile devices. The LAM Application also includes a powerful and mechanism to easily create the FCC OET-71 report for E911 Testing Compliance.
NPM Mapping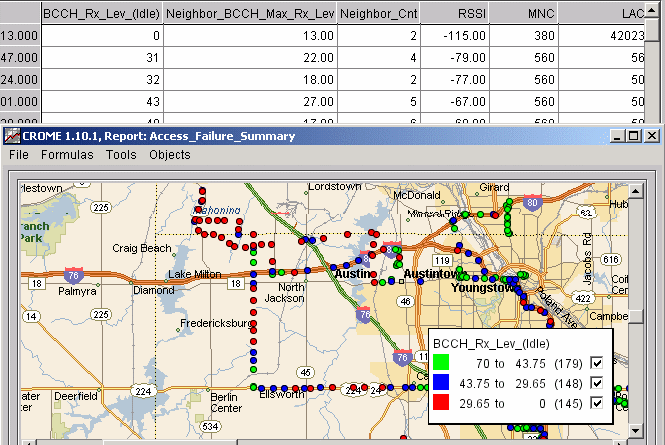 The delivery to TechnoCom includes reporting and mapping of NPM data, including simple mechanisms to filter in ISMI/MIN, MNC, LAC, and CI.
For further information and sales support of TechnoCom Wireless's Location Assurance Manager, please contact sales@technocom-wireless.com.